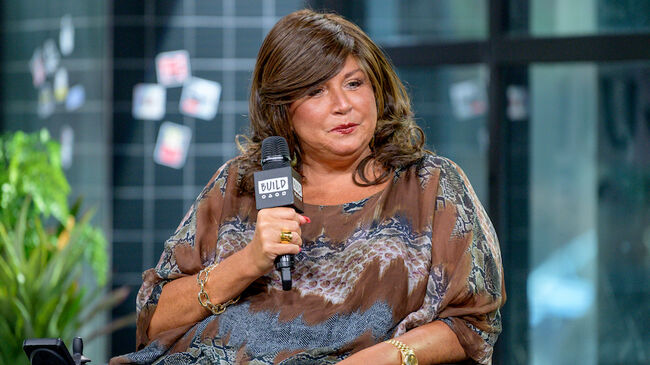 Abby Lee Miller is being called out for her problematic behavior on Dance Moms.
Earlier this week, Dance Moms alums Adriana Smith and Camille Bridges accused Miller of using racially-tinged remarks toward their daughters, Kamryn and Camryn. After Adriana of Season 8 and Camille of Season 7 issued statements taking her to task, Miller took to social media to issue a statement of apology.
"I genuinely understand and deeply regret how my words have effected and hurt those around me in the past, particularly those in the Black community," Miller wrote on Instagram. "To Kamryn, Adriana and anyone else I've hurt, I am truly sorry. I realize that racism can come not just from hate, but also from ignorance. No matter the cause, it is harmful, and it is my fault."
Adriana was the first to speak of her experience on Instagram, writing: "I recently posted on my FB that racism is not something we can disagree on and still be friends, which in turn is why we are not friends. A statement from her that sticks in my mind to this day during my time on DMS8 is 'I know you grew up in the HOOD with only a box of 8 crayons, but I grew up in the country club with a box of 64—don't be stupid.'"
In so many words, Adriana claimed Miller threw it in her face that the only reason she and Kamryn were on the show was because they needed "a sprinkle of color." It was after reflecting on that comment in her final interview with the show's producer that she decided to quit the show.
"As tears streamed down my face, I look over at my 7 year old and back at the camera and say, this is my EVERYDAY life as a black woman. This is nothing new to me. But what I'm not going to have happen is have this racist person have any part of my daughter's life as of this moment," she recalled. "At that moment, I knew that it was more important for me to show my daughter that she had to stand up for what's right and not care about anything else."
Former Dance Mom star Camille Bridges also told the outlet via email of the mistreatment they experienced because of their race as well. In Camille's account, Miller "tried to spin Camryn as being the poor one and there on scholarship," a narrative that didn't sit well with her.
"She loves appropriating our culture and never appreciating it," Camille added. "She did not give black choreographers on the show acknowledgment of their work. She continuously put Camryn in afros."
Adriana's account was also backed by one of the show's producers, Kori Kegg. "THIS broke me as I was working on show and pregnant with my own black daughter," Kegg she told E! News. "In hind sight, I too should have left. I should have stood with my sister, Adriana Janae Smith and supported gorgeous baby Kam and left too."
Photo: Getty Images