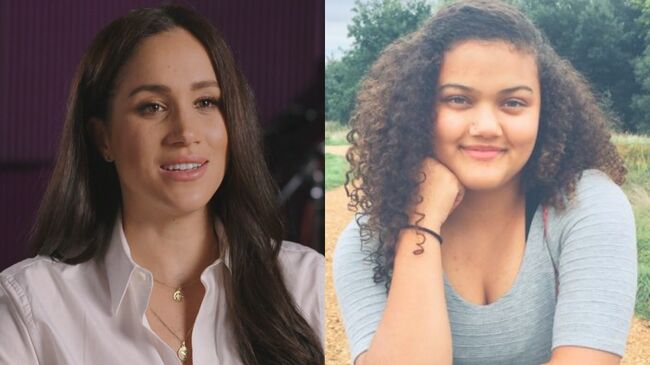 Meghan Markle reportedly reached out to a young woman who was targeted in a hate crime.
Althea Bernstein, an 18-year-old biracial (Black and white) EMT from Wisconsin, became the victim of an allegedly racially-motivated assault after a white man allegedly set her on fire with lighter fluid. Luckily, Bernstein survived the traumatic incident, which reportedly prompted the Duchess of Sussex, who is also biracial, to contact the teen after hearing her story.
As told to the Daily Mail by Michael Johnson, CEO of Boys & Girls Clubs of Dane County, the 38-year-old royal made a phone call to Johnson to check on Bernstein's wellbeing. On Saturday (June 27), Markle and Bernstein conversed for at least 40 minutes, and her husband Prince Harry chimed in for an added 10-minute conversation with the alleged victim as well.  
"Her and Meghan talked about the importance of self care and allowing herself to heal," Johnson explained to outlets. "And she applauded her for the way that she responded and pretty much said, 'Hey, Michael, give me her cellphone number. I want to stay in touch. And let me know when you want me to come back and talk to people in Wisconsin."'
Speaking on the teenager's wellbeing, Johnson added, "She's struggling. It's a challenge for her. It's very, very emotional. I talked to her three or four times today, and I'll tell you Meghan lifted her spirits."
As the story goes, Bernstein had been driving through Madison on Wednesday (June 24) en route to her brother's house at about 1 a.m. When she stopped at a red light with her driver's window down, someone yelled the epithet, "N—r!" She recalled to police that four white men — which she described looked like "classic Wisconsin frat boys" — were by her car and that one of them sprayed a liquid substance on her face and neck before throwing a flaming lighter at her, sparking a fire.
Images of Bernstein's injuries have since been decimated across Twitter, drawing ire from users everywhere over the rampant acts of racism amid the ongoing worldwide protests against racial injustice.
Photo: Getty Images/Twitter